First of all...a big congratulations to our BIG SISTERS DRAW winner Mary S. from Vancouver. Have fun shopping!
Fashion by far, is the biggest recycler. Recycling designs that is. After all, designers continue to resuscitate and reconfigure creations from the past, from mere decades ago to ancient history. As is the case with the Kimono: the coordinate for all seasons, is one of my reimagined favourites. The light, open, garment (or Ki:wear + mono:object) that so seamlessly transcends all age groups. Wearing one, I feel fierce, like...Queen Himiko! Only a tiny bit younger!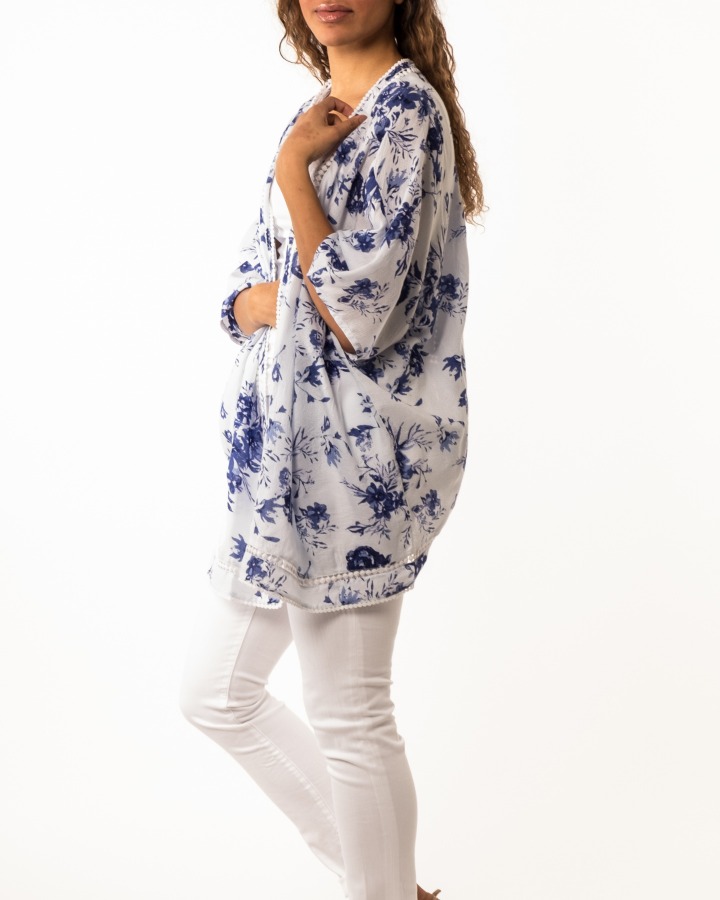 The history of this garment is utterly fascinating. For one thing, traditional Kimonos were made from a single bolt of fabric and were disassembled and then resewn when washing was required. I'm so grateful that this is not required of the modern versions! ;)
En Creme Kimono print shawl (white/blue) now on sale $49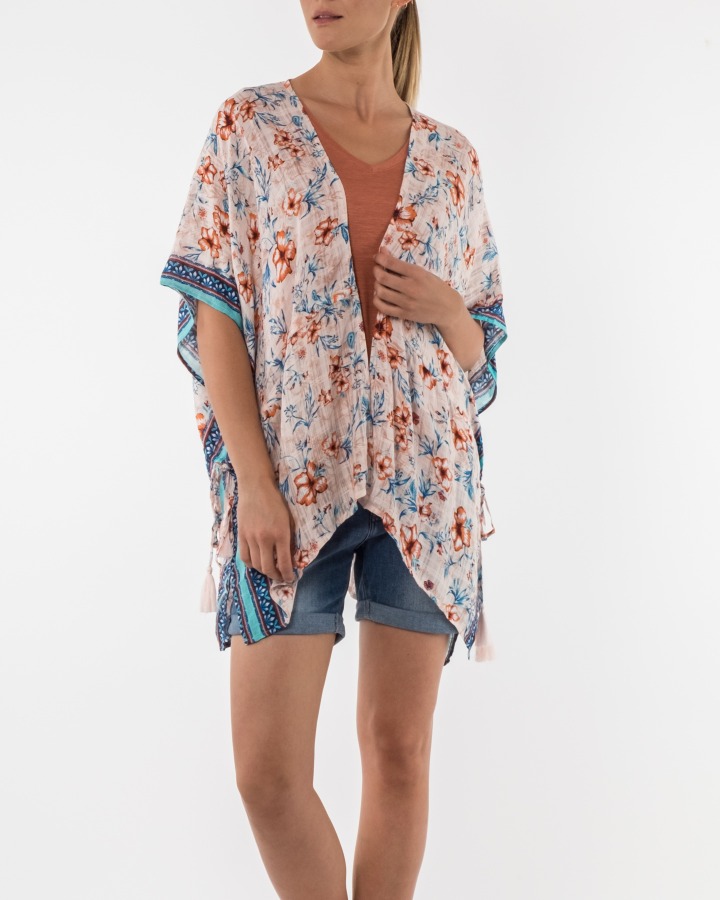 Maybe you've been itching to wear shorter shorts. The kimono is a great option for not so much hiding the perceived flaws as creating a more balanced look. This modern take is so much fun, with the stripe border, side slit with ties and a bit of a drawn in cinched back. The younger set (did I just say that out loud?) like to rock this look...just ignore me, we can all pull this off!!!
En Creme kimono (peach multi) $79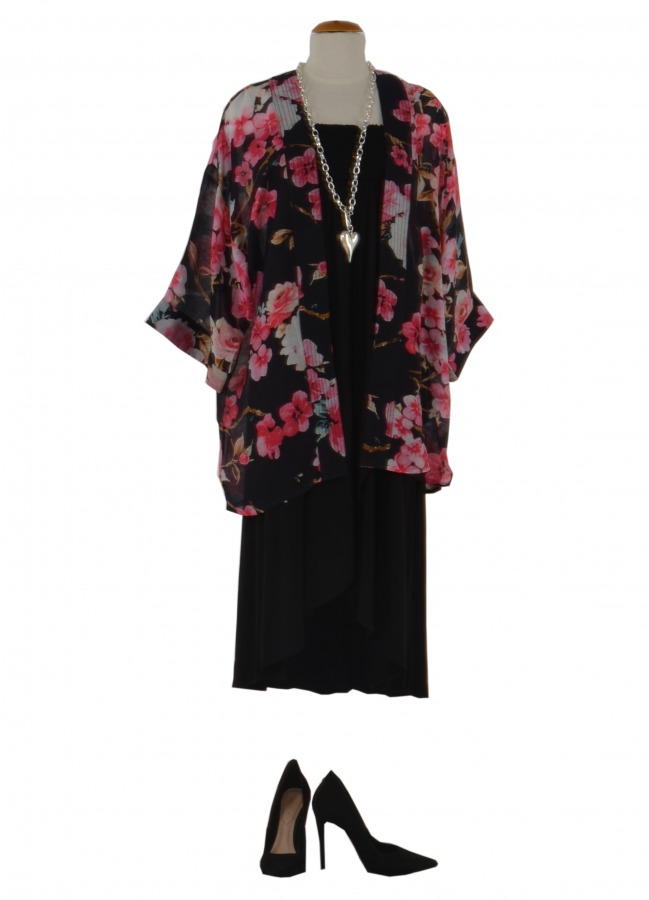 At the complete other end of the spectrum, for a somewhat more grown up Mommy-and-Daddy-date-night look, wear it with a dress, or top and skirt and the highest heels. This bold silver pendant adds a touch of sophisticated interest! But if you'd prefer something a bit more edgy or a shorter skirt, by all means that works too. Kimonos are so versatile! (like money-lol)!
In stores now...this is coming soon to the webstore!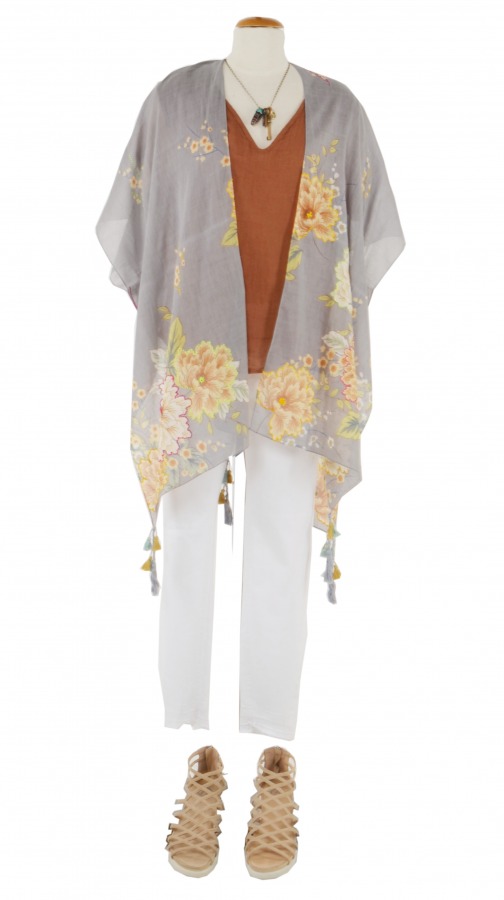 White pants....the garment we think is just for painters. Well, think again! The floral diversion of the kimono creates a nice balance for the white, paired above with the clay coloured top and a simple yet eclectic mixed pendant. A pulled together look for so many activities, it's hard to imagine, on a busy weekend, that you'd need to change even once!
In stores now...this is coming soon to the webstore!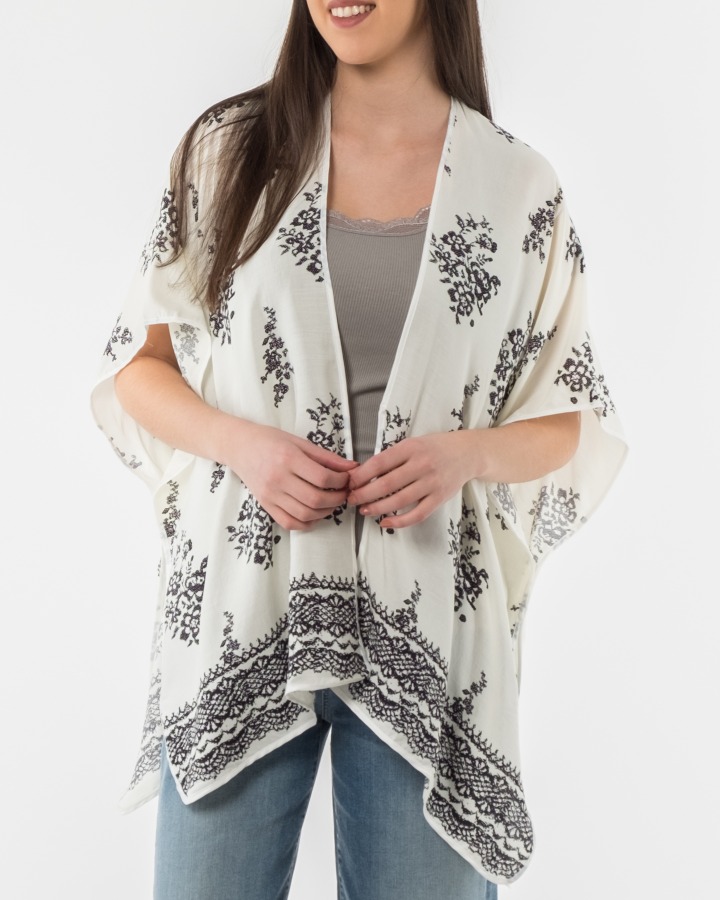 Back in the old days (and by old days, in regards to the Kimono, I mean 1200 years ago, give or take a few hundred), the kimono's pattern, would determine the season it should be worn. For instance, cherry blossoms would be worn in spring, leaf of the Japanese maple for fall and Plum blossoms for winter!
KW Kimono (available in Navy only) $49
Looking back, can be a great, if you can extract from it some good. My least favourite question is one regularly posed to me by my 11 year old....'what age would you be, and what would you tell yourself, if you could go back in time?'
'
OH, God, mini philosopher of mine...it would probably be yesterday
when I was 30 (cough cough)
and don't eat cake for dinner
or when I was 19 and should have named you Confucius'...she usually goes away frowning!
Yours in Fashion passion...
"Fall down seven times, get up eight" ~ Japanese proverb (or maybe avoid uneven pavement)!
Be sure to check out the varied selection available in Plum stores.