Your body shape is determined by the proportions between your shoulders, bust, waist and hips. But no two bodies are alike. By knowing the shape of your body, you can understand the different effects clothes have when you wear them. If you find that one part of your body is out of balance with the others, you can choose to draw or detract attention from those areas of the body by using different garments. Because they hang from the shoulders to the hip, jackets can affect the perception of our body shape.


Are your hips wider than your waist and bust? If so, you have a triangle shape. Because of your lower half's proportions, you might want to draw the attention upwards to create balance. Have you tried something with a strong shoulder? A jacket with structured shoulders paired with a simple bottom can create more balance in your shape. If you attracted attention to your lower half instead, you might only emphasize your hips' width against a smaller waist and bust.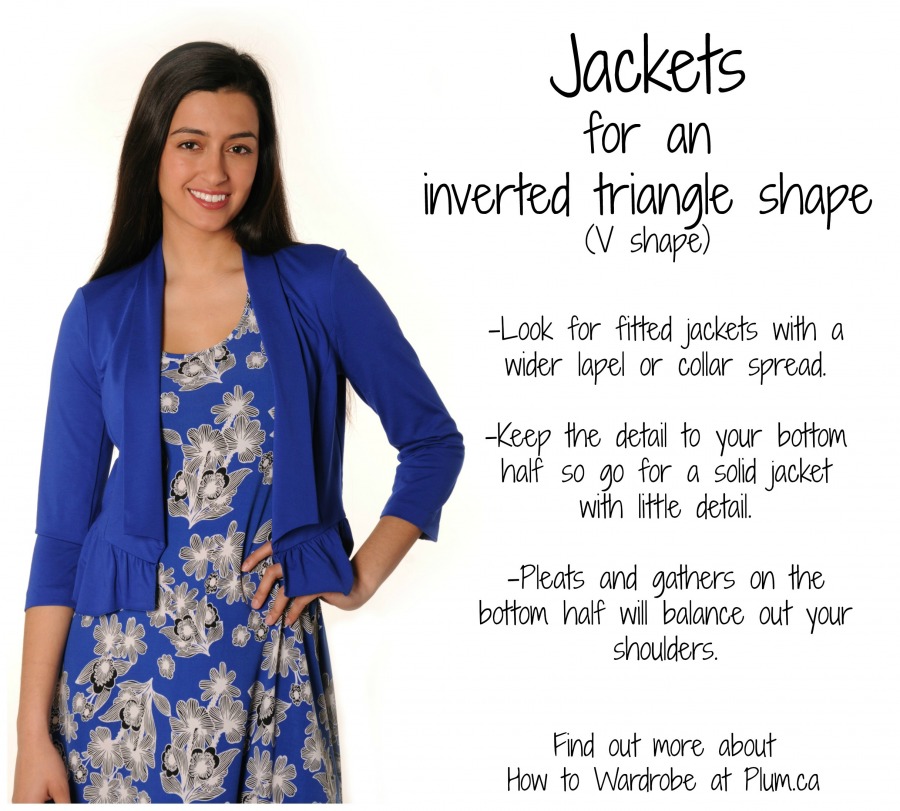 You have an inverted triangle shape if your shoulders are wider than your bust, waist and hips. If you wanted to create balance, solid coloured fitted jackets don't attract as much attention to the span of your shoulders, while you can play with adding more of your clothing's details on your bottom half.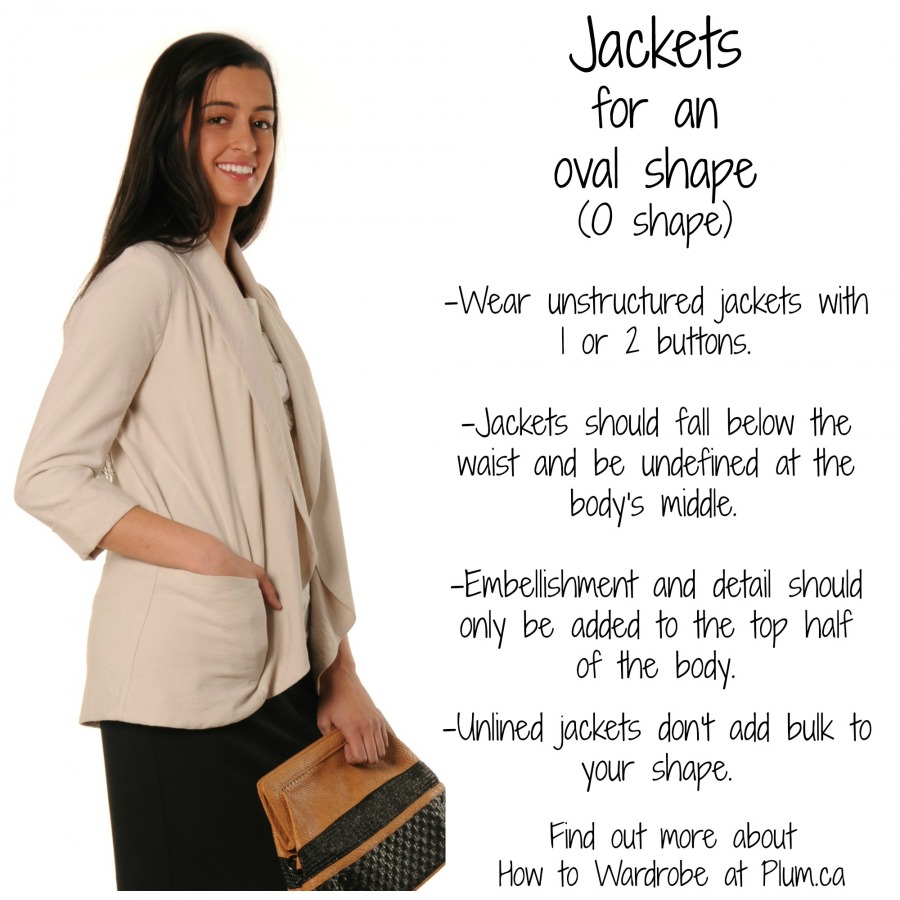 If your waist is wider than your bust or hips, you have an oval shape. Because of your proportions, you might not want to draw attention to your mid-section so you can create a straight line between your shoulders and hips with the right garments. Why don't you try an unstructured jacket that falls below the waist? Because it would fall straight down the sides of your body, it would even create the illusion that there is a dip where your waist is.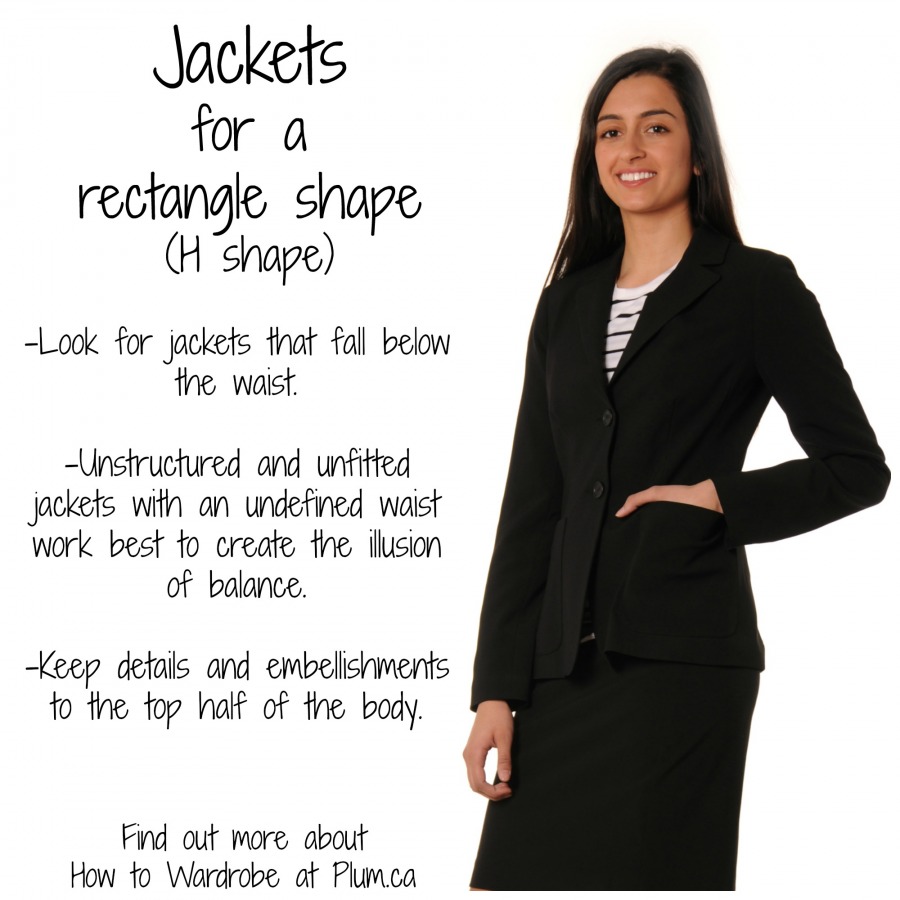 If you don't have a noticeable difference between your bust, waist and hips, you have a rectangle shape. You might find that drawing attention to your waist just shows how similar your bust, waist and hips are in relation to each other. Instead, try a jacket that falls below the waist and has an unstructured fit so it creates balance between your proportions.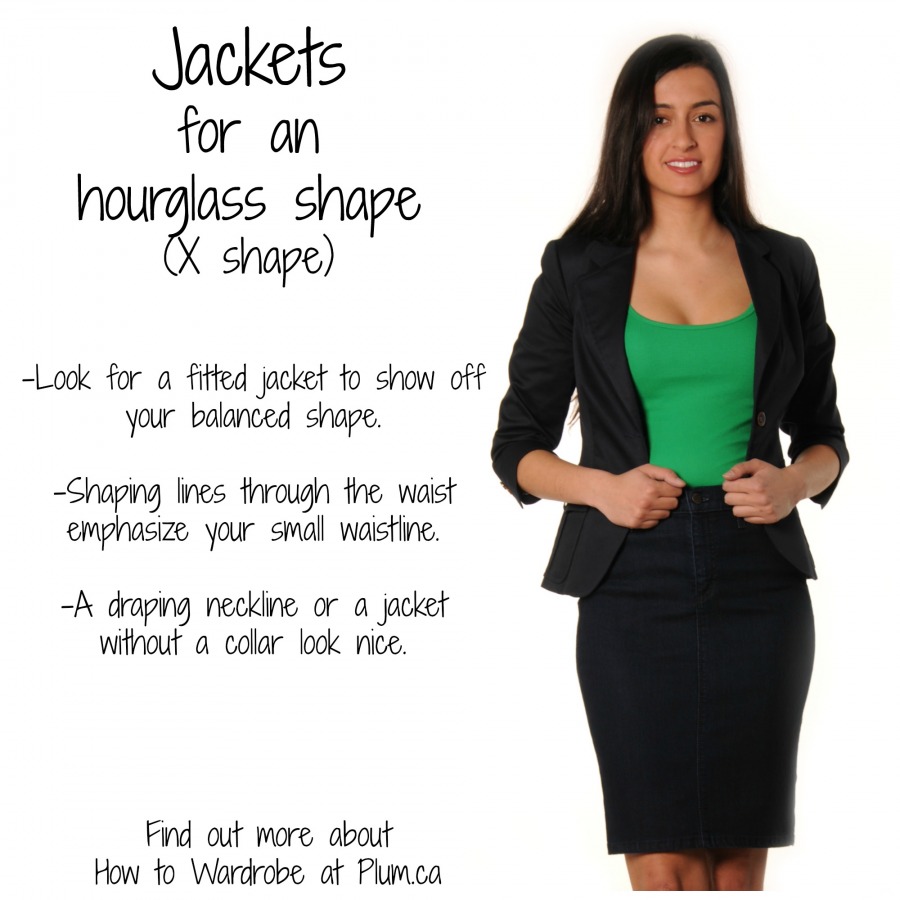 You have an hourglass shape if you have an obviously smaller waist than your bust and hips. Because your shape is the most balanced naturally, you can choose to highlight your proportions by drawing attention to your waist. A fitted jacket with shaping seams through the waist works well because it draws attention to the X shape of your body.


Find out more about the rules of shape and how to wardrobe at plum.ca