It is a lucky lady indeed who is able to totally reinvent her wardrobe every time the seasons change. It's simply not realistic for most of us.
Recently graduated student here. Apart from my new degree, my university experience has given me the ability to stretch a dollar. Sometimes I stretch it really, really far. There have been times when I've had to get pretty creative to give my wardrobe a much-needed shot of life after a long Vancouver winter. But the process doesn't have to be painful.
I like to invest in quality pieces that are versatile, and then switch them up with fun and inexpensive accessories, like jewellery and scarves.
Take the Tobias linen jacket (in stores now, I've seen it, love it, must...have...). Linen is perfect for the spring and summer because it travels well, still looks great with a few wrinkles, and pairs beautiful with dresses and skirts.
The best part? You don't need to spend a lot of time thinking about how you'll wear it. You can just slip it on over jeans and a t-shirt, like you see in the photo below, or over a sundress, a maxi dress, a pleated skirt, coloured denim, a navy pencil skirt...ok, I'm getting carried away. But you get my point. Versatility is the name of the game here.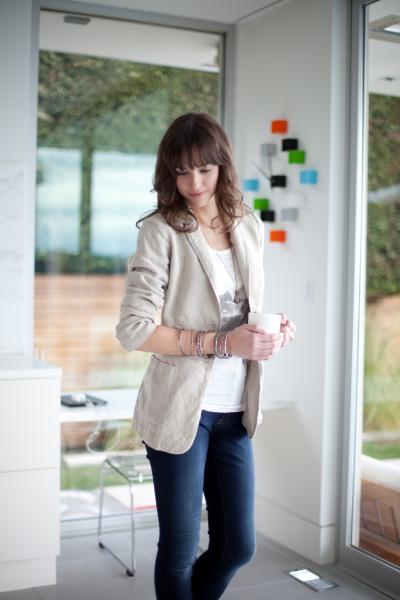 Linen boyfriend jacket in Sand (pictured here), Purple, and Steel, $165
Our stylist took a simple look, just a jacket over jeans and a tee, and made it more unique by adding an armful of bangles. Imagine this is Monday's look. You could give this outfit a totally different feel altogether by adding a brightly coloured scarf for a pop of colour and a leather belt around your hips. Then it's easy to wear it again later in the week if you're in a rush and need a go-to outfit.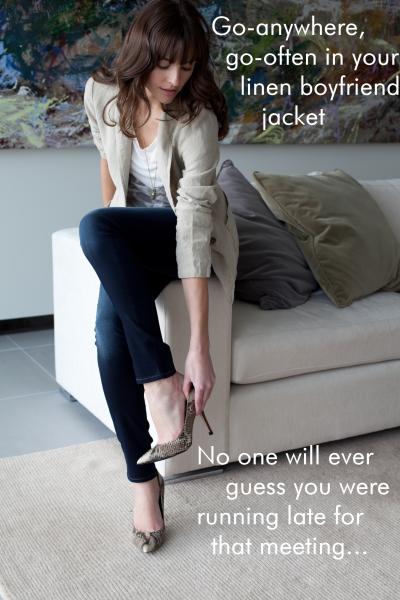 One more thing: Don't forget to enter our feather necklace giveaway! You've got until May 7th to enter to win. It just takes a minute, all you need to do is complete a very short survey for us and you'll be in the running.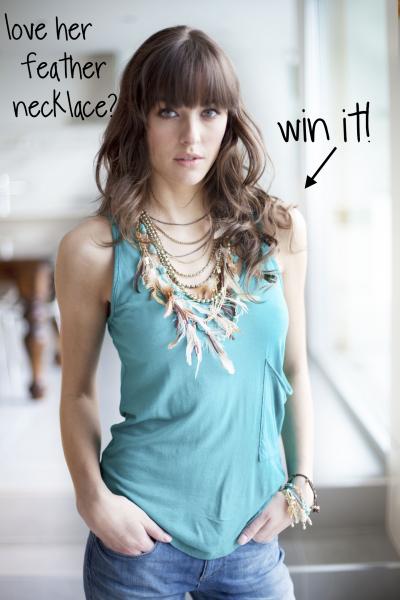 You can find the entry survey here: http://plum.ca/i.cfm/p/survey/sid/84