Colour is a powerful tool in dressing. It can reveal your mood, showcase your personality, and broadcast your confidence. And, because it is so powerful, a lot of people tend to shy away from colour. And to them I say, why? There are so (so) many ways you can incorporate colour into your wardrobe. Whether you want to go bold, bolder, or be the absolute boldest, get colour working for you!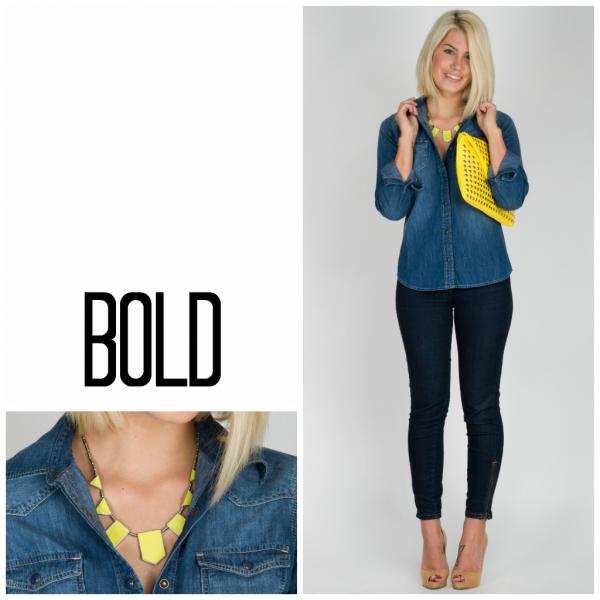 Bold: This look is great if you're interested in testing the colour waters. Ramp up your typical jeans + shirt combo (we love the Canadian tuxedo look, pictured above - surprisingly chic, isn't it?) with a punch of colour. Try a clutch or a statement necklace in any bold colour you love, and voilà.

Bolder: If you're ready to graduate to the next level of colour, experiment with doing a closet staple, like this blazer, in a daring new hue. Anchored with black denim and a top in a classic stripe, the coloured blazer - and the lady wearing it - are the centre of attention.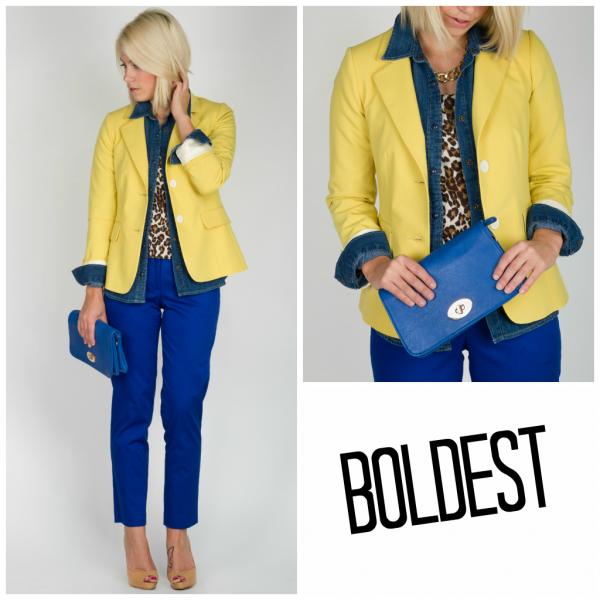 Boldest: If you really want to turn heads, colour yourself in from head to toe. Choose complimenting shades, like blue and yellow, and add some extra depth to your look to keep it from veering into 'primary' territory. A hint of leopard print peeking out and a chunky gold chain necklace fit the bill very nicely.

Now tell me! How are you planning on rocking colour this season? You can leave me a comment here, on our Facebook page, or tweet me @PlumClothing.