Wrinkles don't matter...at least not in pants! Plum's best selling pants this season, made in Italy, for 4 days only $79
For more information on Plum's annual Big Sisters campaign (Win a $350 gift card from Plum and support Big Sisters) follow this link for details
Ageless wrinkles...a bit of an oxymoron! But what causes them? Water (not heat) is the culprit behind wrinkles in cellulose based fabrics...a life lived is the cause of them on our face. Somewhat unavoidable on pants, as we sit, bend, stretch and recline! And with linen it's an expected quality which somehow adds to the divine character of this fabrication. If only we could view them the same way on our faces. This week one of Plum's favourite's has been brought back by popular demand. Made in Italy. Yes Italy! The birthplace of the Renaissance, pizza, the statue of David...all things exquisitely made!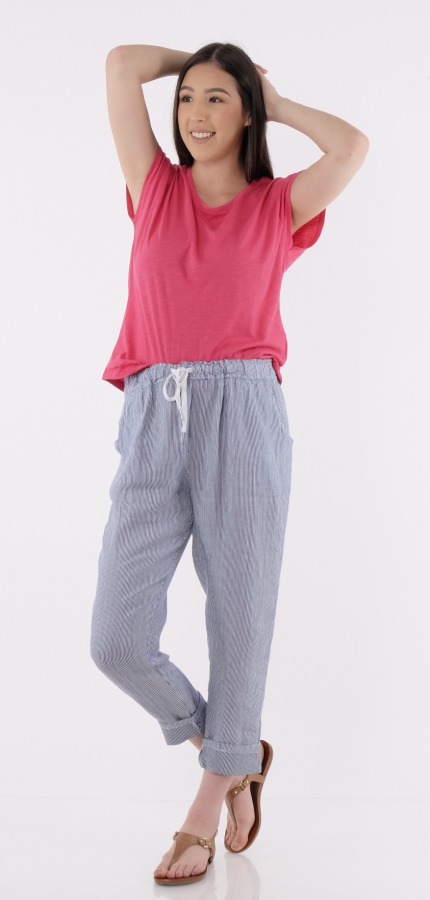 If you're a pant lover, be it the casual, fancy or smarty ;), these are the ideal choice for summer. The perfect length, regardless of the chosen footwear. Easy, while somehow still retaining a level of sophistication because of the linen composition.
M stripe drawstring linen pant (navy or white stripe) FOR 4 DAYS $79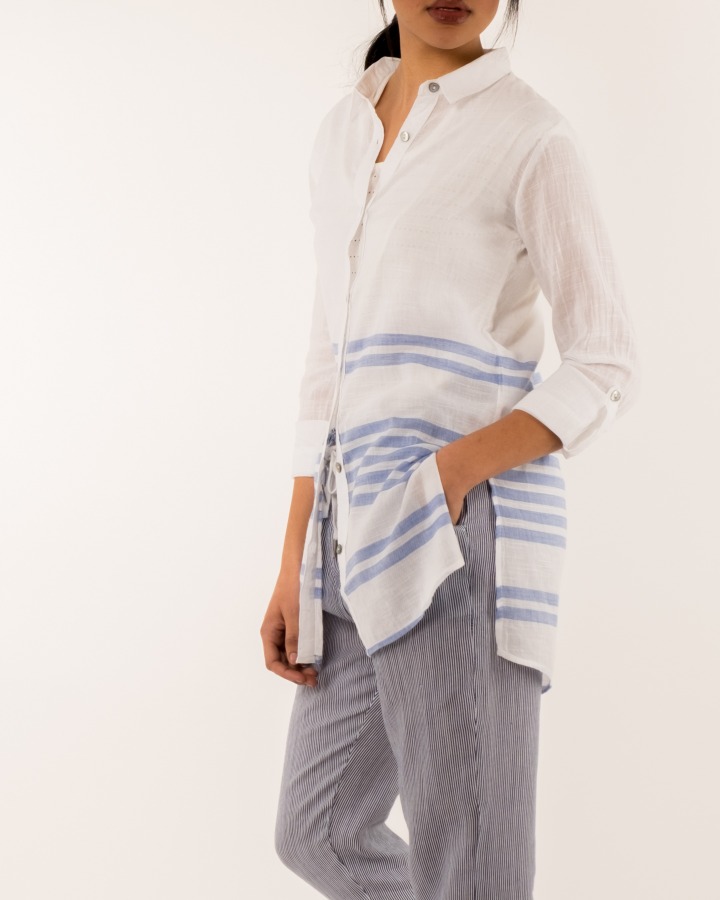 And a great companion to these fluid pants is this shirt, which is comprised of cotton and makes for a very natural, uncomplicated look.
Be Young shirt with stripe details (off white/blue) $65
To try possibly, a trend I'm really liking these days is mixing patterns. At least one common component with the two diverse patterns, is what makes this work. Such as picking out one of the colours. In this case one is an extremely feminine blue floral and the linen pants, a solid stripe. Neither competes with the other. OR... keep it simple, with a pretty, lace edge, off the shoulder top. With option one, you can get quite creative.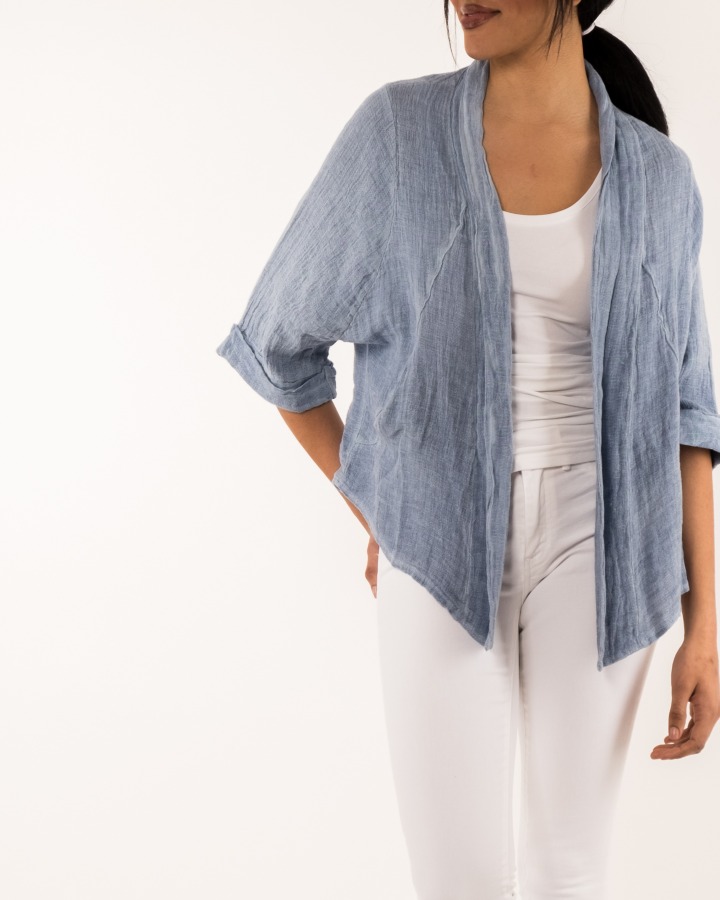 Maybe what's needed is just a mere bit of outer coverage. You know, just a little something so throw on for those evening, patio, dine out dates. Light enough to ward off the sweat, but coverage enough to make you feel secure ;) This open front jacket, is a great option, also comprised of cotton and linen.
Meo Meli open weave jacket (denim or white) $89
There are eating pants...(you know the ones); yoga pants, because jeans apparently are just too stressful; and sassy pants, because apparently we can't 'say it like it is' unless we're wearing them! But HANDS DOWN, linen pants are the best. Because people notice the wrinkles on them more than our faces, and thus we look younger! (just a theory)!
Yours in Fashion passion...
Suzanne M.
'Wrinkles should merely indicate where the smiles have been' ~ Mark Twain