As past curator of the Vancouver Museum, and current curator for the Society of the Museum of Original Costume, Ivan has always been a collector.
As a child, he purchased antiques from thrift shops, catalogued them in his garage, then spent hours at the library to determine the exact age of the items. When he was just a teenager, he bought his first item of clothing: a black lace dress from the thirties. Now, he jokes that he sleeps in the dining room because the boxes have overtaken every room in his East Van house. He has amassed one of the largest private collections in all of Canada.
Fashion lovers flock to his events--not just to see a rare glimpse of his collection, but also hear the unique insights only he can provide. When Ivan is speaking, anecdotes about how and where he acquired each item are peppered in with his expert knowledge on the evolution of women's fashion from 1650. His fashion shows are filled with stories from the original women who wore the garments that he could only hear at the original transaction. All told without shortage of humour and passion.
Ivan Sayers is hosting, after all.
Buy your tickets to Radical Rags at any Plum lower mainland store
When: February 22 from 2 to 4 pm
Where: Vancouver's St. Andrew's-Wesley Church
All proceeds go to support the Civil Rights Now!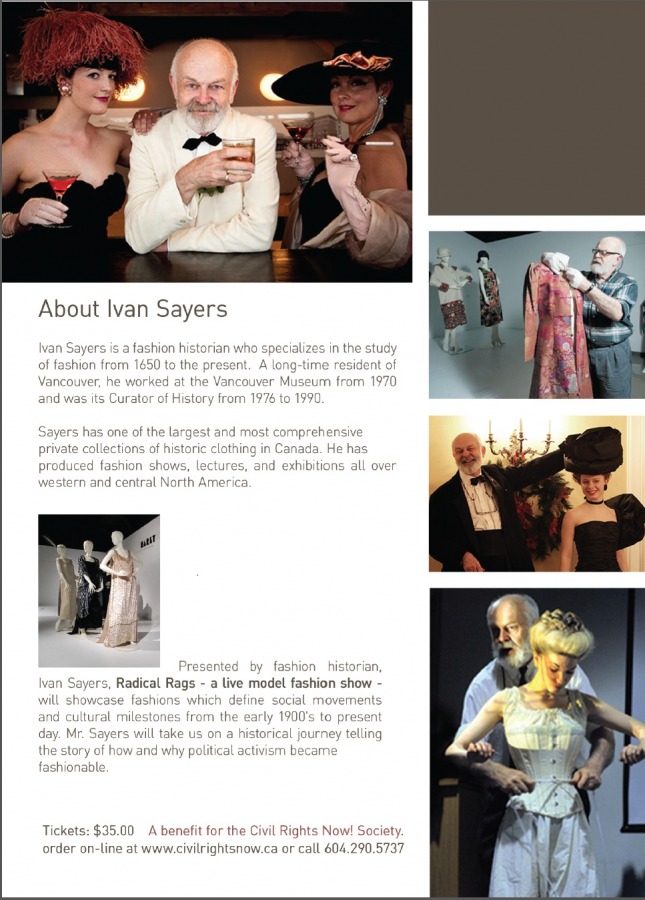 Corset photo credit: Cindy Goodman/North Shore News. ... read the full post and reader comments