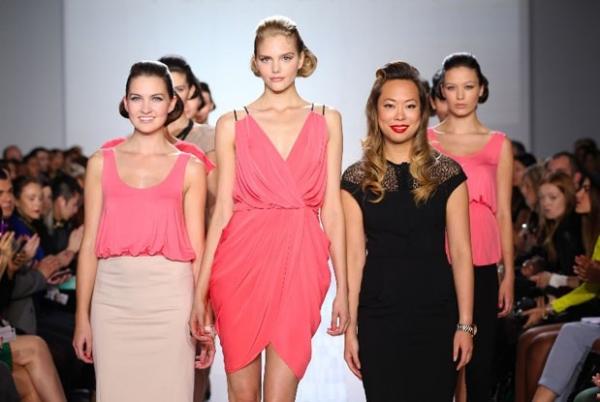 Designer Rachel Sin - Image Courtesy of World MasterCard Fashion Week
I will admit, it's hard not to get excited about the styles we've been seeing for Spring 2013 on the runways in New York, Paris, and Milan. But here at Plum, we're more interested in what our fellow Canadian designers are up to. So, we collaborated with a local blogger to have her cover the recent Toronto Fashion Week for us!
Five days of shows later and she assures us it was a "great display of Canadian talent." One of the standout shows of the week was a presentation by Canadian architect turned designer (/coolest woman ever), Rachel Sin. Raj Thandhi, our eyes and ears on the scene, gave us a rundown on what made her presentation so exceptional.
"These pieces were very wearable by everyday women and she had looks that would take you from the office to date night with just a few accessories. One of the only designers to show clean silhouettes in bold colours, she incorporated coral, blue, beige, and black into her line. In fact, when Rachel's cobalt dresses were coming down the runway, I kept thinking of this blue sheath designed by our own Claudia Agusti and currently available in store."
Toronto Fashion Week featured several Vancouver designers as well, including a home-grown North Van woman, Patty Nayal of Pure Magnolia bridal. Her unique and sustainably-made gowns are an absolute must-see. Seeing talent like hers makes us even prouder to be designing in the Vancouver fashion scene!
Raj also attended Toronto's 2012 Design Start-up Competition. She describes it as an initiative that:
"provides a national platform to discover and support emerging Canadian designers that have been in business for less than five years. Winners of the competition receive mentorship from industry professionals, exposure, and much needed funding. To find these talented designers and to ensure a nationwide effort, searches were held in Edmonton, Halifax, Quebec City, and Ottawa. Each designer had to show a mini-collection, present a business plan, and pitch to a panel of experts before making it to the big tent in Toronto."
The big winner? Montreal-based DUY. Raj described Duy Nguyen's line as being "ready to wear, featuring very flowy fabrics like chiffon, crepe, and cotton for Spring 2013." You can see all of his designs by clicking here.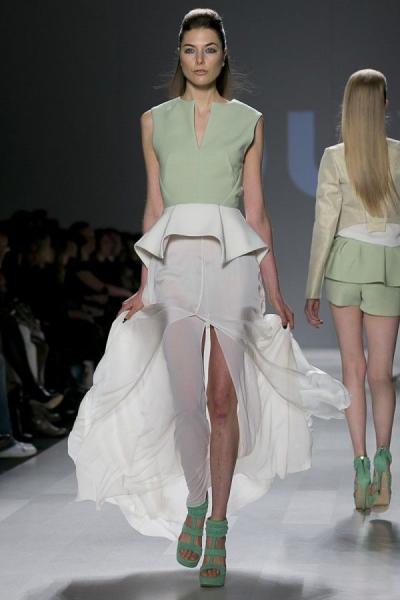 DUY - Image Courtesy of World MasterCard Fashion Week
While I am completely green with envy of everything that Raj got to see at Toronto Fashion Week, it certainly sounds like a lot of work to cover an event like that. After completing her wrap up for us, she joked "It's time to put my stilettos away until next season and give my feet a well-deserved break."
We completely agree!