Fall is kind of a mixed bag, isn't it? On the one hand, it will be sad to see the summer go, taking the heat and the long hours of daylight with it. But (major but), fall is undoubtedly the most fun season to dress for. So let's get excited! Who am I kidding, I was excited for fall in July. I love layers, what can I say?
In the spirit of back-to-school, I present to you a lesson in dressin' for Fall 2012.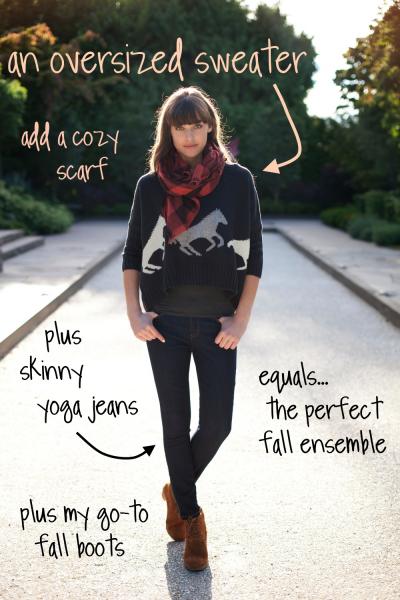 This is math I can see myself getting on board with.
Fall is the perfect time to work your layering skills , so it's a great time to get back to basics. Most importantly, you'll need a pair of great skinny jeans. They (along with a cute pair of boots, of course) can be the perfect foundation for your fall wardrobe, providing they fit you just right. We like Yoga Jeans for their legging-like stretch and fit with their true denim durability.
Skinny Yoga Jeans with ankle zip, available in Indigo and Black, $120
From there, the options are endless. Try any of these toppers for an A+ fall look.



Our classic military jacket ($189) creates a streamlined silhouette for instant sophistication, whereas the cowl neck sweater dress ($79) is perfect for a laid-back environment. Finally, a fitted ruffle front tank ($39) give the jeans a more flirty spin.
Finish your look off with a colourful scarf and you have my ideal fall ensemble.
Tell me, what is your ultimate effortless fall outfit?
You can leave me a message here, on our Facebook page (https://www.facebook.com/PlumClothing) or tweet me @PlumClothing