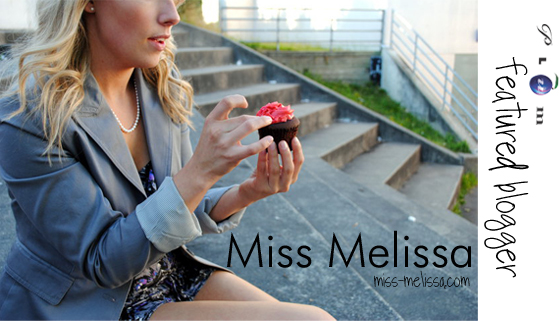 If you like classic feminine style with a touch of vintage, then you must start following Melissa Knight's blog miss-melissa.com. Read my interview with Melissa to find out more about this fashionable Vancouver gal, and be sure to check her out on Twitter.
How would you define your personal style?
I'm not sure I could define my personal style. It's kind of all over the place! However it's almost always a little girly and I really believe that less is more.
What are your greatest sources of fashion inspiration?
Right now I'm finding most of my fashion inspiration through friends and other blogs. The nice thing about fashion and style blogs is that the bloggers are all so varied and interesting. It's so much easier to be inspired by someone who is real and that you can relate to.
If your life story were being turned into a movie, who would you want to play you, and why?
Since most of my life story would be about bringing Sexy Back, it would only be appropriate that my role be played by Justin Timberlake. Haha just kiiidding. I would probably choose Ellen Degeneres because even though she's had some ups and downs, she is always smiling, laughing and she really seems to enjoy life!
The best place to grab a bite to eat in Vancouver is...
I'm a huge fan of Urban Thai in Yaletown. I eat lunch there at least once a week.
Tell us, what are your top places to shop? Do you ever shop online?
I love so many different stores. Zara, Gap, Barefoot Contessa, Banana Republic, H&M, Plum, Aldo, Urban Outfitters and Club Monaco. I'm also a fan of vintage so you'll see me browsing in True Value Vintage, Deluxe Junk or Mintage. I do shop online a bit but it's not my preference. If I shop online it's usually from ModCloth.com.
My most recent purchase was...
A couple pairs of suede shoes from a huge sale at Urban Outfitters. If I buy suede I like it to be as cheap as possible. It doesn't last very long in this Vancouver rain!
In your opinion, what are the top trends this season?
I really don't consider myself a trendy person. However I have been seeing lots of lace, leather, faux fur, minimalist looks and feminine details in stores and on runways which are all things I love. So, top trends or not they are my personal favs.
Do you have any tips for anyone out there wanting to start their own fashion blog?
Have fun with it! Take inspiration from your favourite blogs but make sure your blog reflects who you are and what you are passionate about.