Follow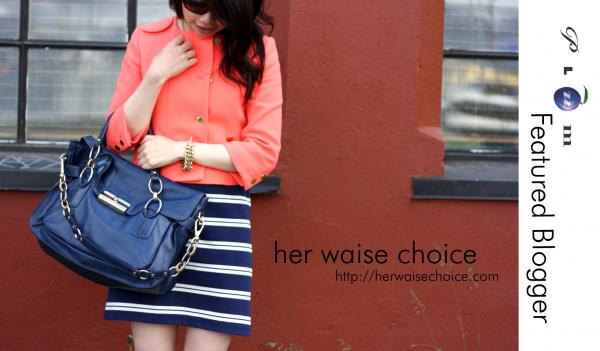 Jen is the gal behind Her Waise Choice, a Vancouver based personal style blog. We look forward to her outfit posts, as she always seems to be perfectly on trend, while staying relatable and effortlessly put together! We couldn't help but ask Jen a few quick questions about blogging, shopping, and traveling. You can continue to follow Jen's fashion adventures on Twitter and Facebook or herwaisechoice.com. Enjoy :)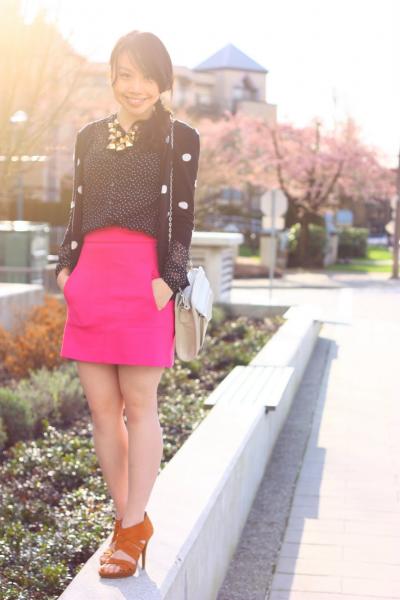 How would you describe your personal style?
I always fear this question a little bit as I don't want to box myself up in a particular style, but I feel my best when I look feminine and put-together with something whimsical thrown in the mix. I love using pattern or colour to make an outfit more fun!

What are your greatest sources of fashion inspiration?

Other blogs, naturally, and Olivia Palermo. I'm also a sucker for European editions of fashion magazines!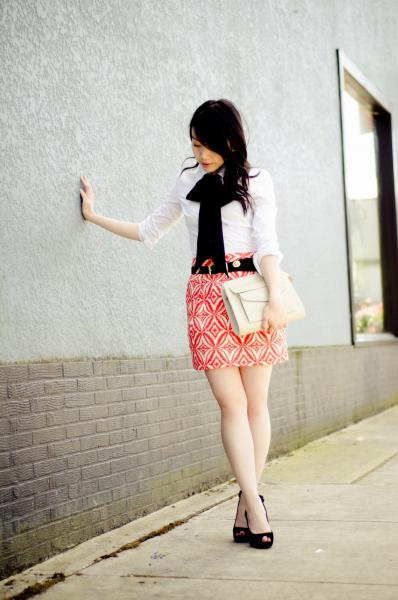 Are there any fashion websites or blogs that you recommend?

My current favourites are The Glamourai, Atlantic-Pacific and Saucy Glossie-- I can always count on these ladies to sartorially inspire! My favourite street style blog is StockholmStreetStyle and I love visiting dustjacket attic for beautiful editorials.

The last trip you went on took you to...

London, Copenhagen, and a cruise around the Baltic. I'm now dreaming of a vacation home in the Scandinavian countryside!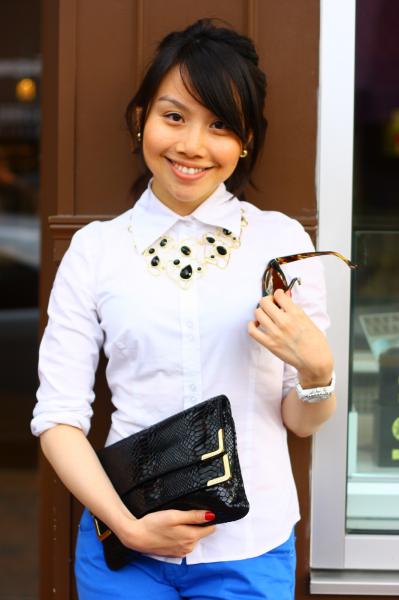 Tell us, what are your top places to shop? Do you ever shop online?
A large chunk of the clothes in my closet are adorned with "Zara" and "Club Monaco" labels. Also, one of my favourite things to do is to discover little consignment store gems around town. There are a few on West 4th and West Broadway that I frequent often. I've toned down on the online shopping in recent years but could still spend a good amount of time perusing ASOS and Shopbop. And though I've yet to order from them, I keep going back to Queen's Wardrobe to admire their pretty pieces.

My most recent purchase was...

A pair of new (to me) Marc by Marc Jacobs colour-blocked sandals from Front & Co.!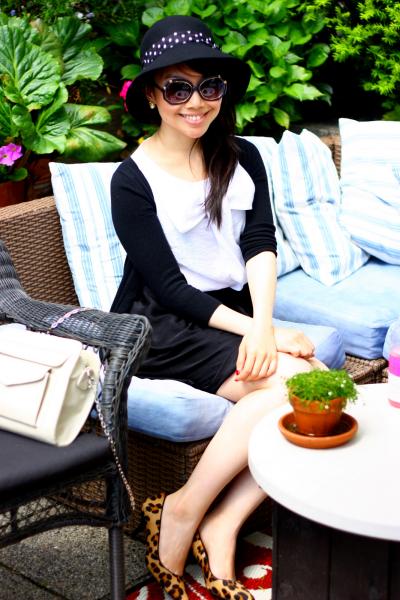 What is your favourite thing about blogging?

It's going to sound cliche, but the community. It's such a blessing to have 'met' so many kind, real and stylish girls. The opportunity to work with some amazing companies has definitely been wonderful too!

Do you have any advice for anyone wanting to start their own fashion blog?

I'm definitely not the best person to ask, but I'll tell you the things I wish I had done when I began blogging last year and still struggle with today: post frequently from the onset (with quality photos and content that you are passionate about), build genuine relationships with other bloggers, and don't sell yourself short. Reach out to companies and don't be afraid of rejection. Also, be prepared to invest a lot of time, hard work and commitment into it. It's worth it!
all images from herwaisechoice.com