Picture this: you're a qualified and eager potential employee looking for work, but you've been out of the workforce for some time, maybe even years. You need suitabe interview attire, but perhaps don't have anything appropriate or the means to go out and buy something new. This is the reality for many women in Greater Vancouver. Plum, together with Dress for Success, is eager to help these women.
Dress for Success is an organization that promotes "the economic independence of disadvantaged women by providing professional attire, a network of support and the career development tools to help women thrive in work and in life."
Today until November 11, 2012, all Lower Mainland Plum locations will be accepting donations of interview-appropriate clothing in support of Dress for Success Vancouver. Donations can be dropped off at our South Granville, Kitsilano, North Vancouver, Richmond, White Rock, Langley, or Coquitlam locations. For our store hours and locations, click here. Donations can also be taken directly to Dress for Success; check below for complete details.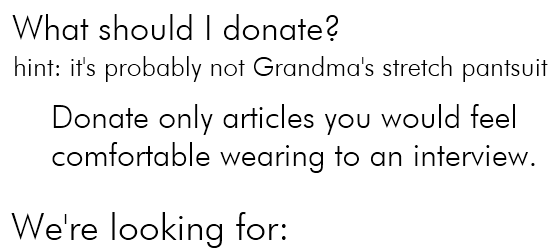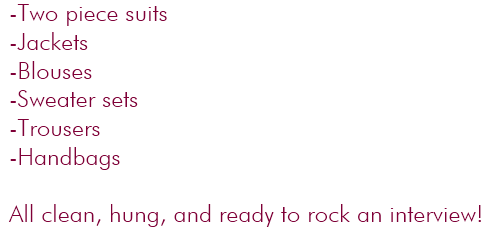 Donations can also be taken directly to Dress for Success. I've copied the main donation deets here for you.
"We gratefully accept donations of suits and other business wear (no more than 3 years old) - cleaned and on hangers. Our clients may need to wear their outfit to an interview the next day, so clean, current, stylish clothing is important!...Our test is whether or not you the donor would feel proud having one of our clients wear the suit to an interview.
We are also grateful for donations of handbags, footwear, outerwear and unopened toiletries and pantyhose/knee highs.

Out of respect for our volunteers' time and our clients' needs, we cannot accept:
casual clothing

evening wear

items older than three years in vintage

items in need of repair or cleaning.
Drop off hours - you are able to bring the donations up to our facility:
Monday through Friday 9:30 AM until 3:30 PM

Saturdays 10 AM until 11:30 AM

Please note that we will be closed for drop offs on

Saturday March, 10, 2012

.
Please call ahead for access instructions. 604.408.7923"
You can check out the Dress For Success Vancouver website here